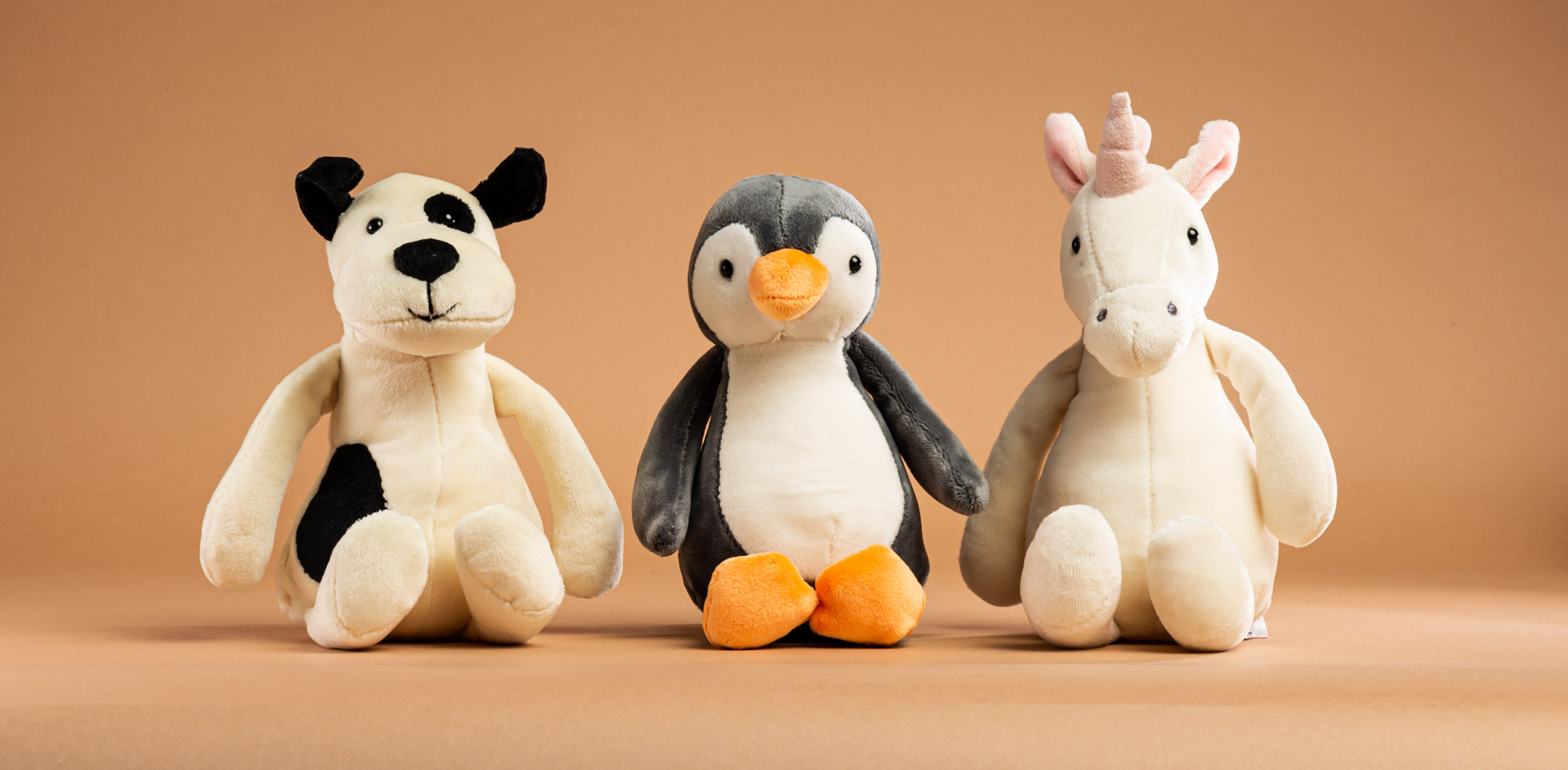 What are the best toys for babies? From the time they're born and beyond, encouraging a child to learn, explore, and grow is at the center of parental guidance. We want our children to learn, but we also want them to enjoy the process of doing it. 
But what are the best toys for a newborn baby? And at what age should we be introducing them to new and learning-friendly toys? 
Well, here at Send a Cuddly we know just how important it is to get the right toys at the right time. That's why we've put together this guide to help you encourage exploration in your little one from birth and beyond.
The first two months are all about you
For the first two months of your little one's life, they'll be most interested in you. Talking to them, touching them and letting them get a good view of your face will be the most important thing for their learning and development at this stage. They'll be unable to use their fingers and hands properly, so toys aren't particularly useful. 
Soft toys can be a nice addition for newborns, and they can help to make them feel comfortable too, but playing with your baby will be more than enough for him/her to begin their exploration journey at this stage!
The real exploration will start in the third month
From three months in, things will start to change. As your baby's muscles and mobility grows, so will his/her aptitude for exploration! After the initial three months of their little lives, you'll start to notice just how much they want to touch, see, and taste. This can be a really fun part of your baby's development, and introducing them to an assortment of textures, colors, shapes, and sounds will encourage them to explore! 
At this stage, you can start letting them play with lots of different things. Here at Send a Cuddly, we have loads of great soft toys for babies from birth to 18 months and beyond! They're not only super adorable, but they provide a great way for your baby to start exploring soft textures and various vibrant colors.
But it's not just soft toys that can help your baby's development at this stage. A whole range of household objects can help him/her to really explore differing senses. Let your baby get the feel for a wooden spoon, a piece of fruit or even a crumpled up piece of paper. 
The best toys for babies as they grow 
From around three months your baby will really want to start exploring and learning. They'll start reaching for things, grabbing things and they'll usually put whatever they get a hold of into their mouth. Yummy. So, what kind of toys should we start introducing them to?
Look out for bright colours and patterns: Introducing your baby to bright colours and patterns will really help them to get a feel for the visual world.
Introduce them to sound: Making sounds can be a whole heap of fun for your little one. Introducing them to rattles, musical mobiles and even wind chimes can bring about a great learning experience!
Soft and cuddly toys: These are our favourite types of toys here at Send a Cuddly! Soft toys will stimulate your baby's senses and introduce them to soft textures. Plus, young children will often squeeze or cuddle softer toys, and this allows them to develop their muscles.
Our rabbit soft toys are perfect for babies from birth and beyond! They come in a variety of vibrant colours and the soft exterior and flowery, textured ears will make for quite the fluffy buddy for your little one to explore!
Dangling toys will help them stretch: A mobile or dangling toy can be really fun for your baby, especially if they're full of bright colours and movement. Reaching for dangling toys can help babies to develop their reaching and grasping skills, so this is great for early on in their development. They can also help your baby to sleep, or give them something to play with when they wake up (instead of crying out for you!)
Smiling faces will introduce them to facial features: Toys with smiling faces are a great way to get your child recognising facial expression, especially as they begin to develop. As a newborn, they'll love looking into the faces of others, staring at them and studying them. They find it fascinating! This continues as they grow, and introducing them to smiling dolls, teddies and toys can help them to really recognise different faces. 
Getting to know your baby's personality
Every baby is different when it comes to toy preference and personality. The first six months will be spent with you and your baby getting to know one another. Pay attention to the way that your baby plays with different toys. Do they like a certain toy more than others? Are they interested in specific textures or colours? Get to know what they like and don't like, and tailor their play to that. 
Letting your baby choose what he/she plays with will show them that their interests are important to you, and it will help them to learn more about their own preferences too. Bonding and attachment are built through this kind of behaviour, and this fosters emotional wellbeing.
If you are looking for some great toys for your baby then our new baby soft toys are a great way to go! They're colourful, textured and will help your little one to start exploring and learning. 
Beyond the three to six month mark, you'll really start seeing how your baby's play develops. So, start them off with a variety and watch how they explore!