Christmas time is one of the most magical times of the year, especially for younger children, or those with younger children! Each year more and more Christmas Teddy bears and soft toys are given as presents, delighting and bringing smiles to young faces, and introducing soon to be best friends!
Whether you are looking for a First Christmas Teddy, something quirky like a Santa or Elf teddy, or a colourful and quirky character, you are sure to find something at Send a Cuddly.
Whichever Christmas soft toy you decide upon, you can rest assured that with our unique personalised message medal, luxury gift boxes with different ribbon colours, and of course a fabulous choice of chocolate bars, truffles, biscuits and jellybeans, you will be making someone's Xmas cuddlier than they could ever imagine.
Gifts from our favourite toymakers..
When it comes to Teddy Bears and soft toys, no two names are more celebrated for quality and cuddliness than, Jellycat and Steiff. Jellycat for their colourful characters of many shapes and sizes, and Steiff, for their award winning, handmade, traditional Teddy Bears, most of them suitable from birth.

A Santa cuddly!
When we think of Christmas, the first person that comes to mind is Santa. Why not give a gift of someone who keeps on giving! Our super sweet Jellycat Cranberry Santa is a wonderful present for those 12 months and over, dressed in a crushed velvet traditional Santa suit, finished off with a fluffy covering of white hair and beard! Our message medals are perfect accompaniments to our Cranberry Santa, giving you space to write your own message or choose one of our recommended messages such as:-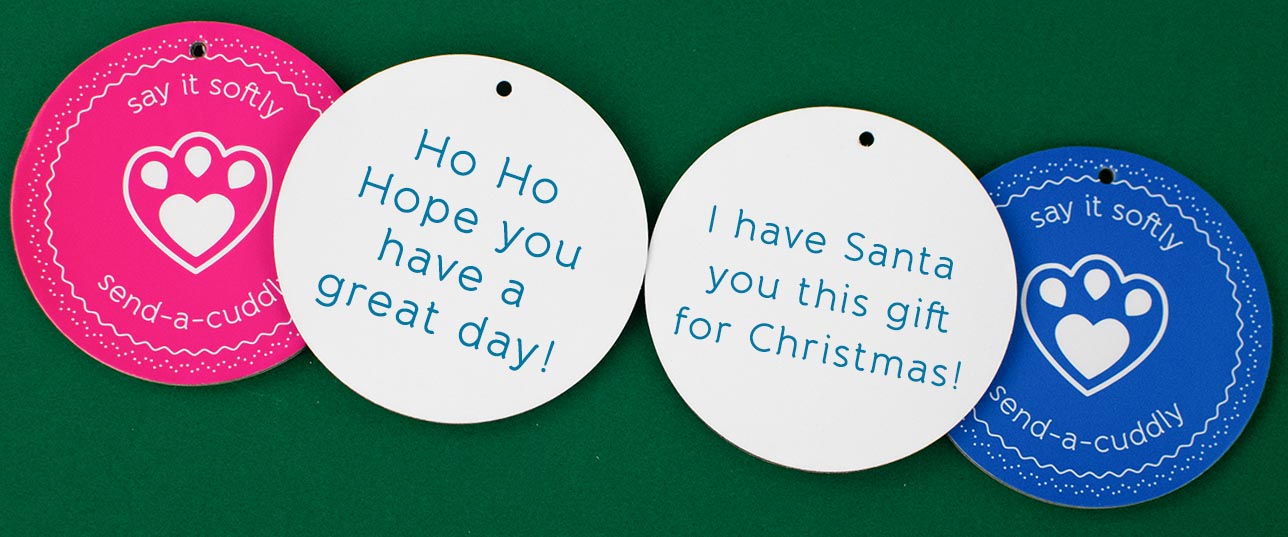 An Ice Cool First Christmas gift!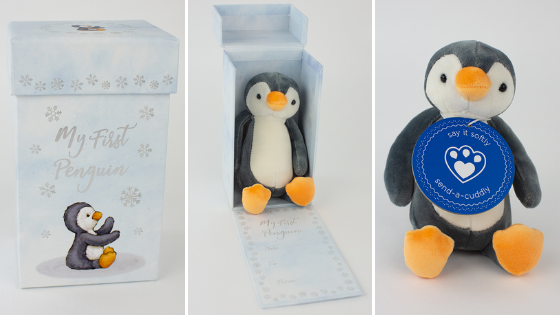 Before we finish talking about Jellycat  there is one cuddly that ticks two boxes! A Christmas gift, but also a new baby gift! It's the ice cool, My First Penguin! This cute Jellycat Christmas gift comes in its own gift box, and is perfect for babies and young children.
Our Christmas gift guide wouldn't be complete if we didn't include some items from our collection of fabulous Steiff cuddlies. You may well have heard of Steiff before, but here is a little background on them to show just how respected and loved they are in the toy industry! Founded in 1880, the German company were the first to create jointed Teddy bears! Nowadays the company not only sells collectible bears, but a whole host of bears and animals of all sizes, suitable for all! Steiff bears all come with their trademarked 'Button in ear', which defines the quality and authenticity of these super sweet and cuddly bears and animals!
Where do we start…..
Cosy Bear 2019
If you are looking to mark Christmas 2019, then Steiff have the perfect Teddy bear for you! Their limited run Steiff Cosy Year Bear 2019. This bear is crafted from super soft plush, measures approximately 36cm, and comes with '2019' embroidered on his foot. Along with our personalised message medal, this bear's embroidered '2019', will help you mark the year in style.
Lasse Polar Bear
Still on the topic of Christmas Bears, how about a Polar Bear? Our Steiff Lasse polar bear is a 'beary' nice Christmas gift! (sorry we couldn't help it!). Covered from head to toe in snow white cuddly fur, Lasse is a quirky yet cute way of wishing someone a very cool Christmas! Our polar Bear from Steiff can be found here
Honey Bear – Small & Large
One of our favourite Steiff Teddy Bears from our Christmas collection is Honey! We have the extremes when it comes to Honey, Big and small! Our big version of Honey stands at 48cm tall, and is certainly perfect for someone wanting to make a statement with their Christmas gift this year! This Honey gives the biggest cuddles imaginable! Our Smaller version is 18cm and whilst on the shorter side, still oozes sweetness and cuteness! You can find out more about honey bear here:-
It's a wonderful 'Dogs' Life!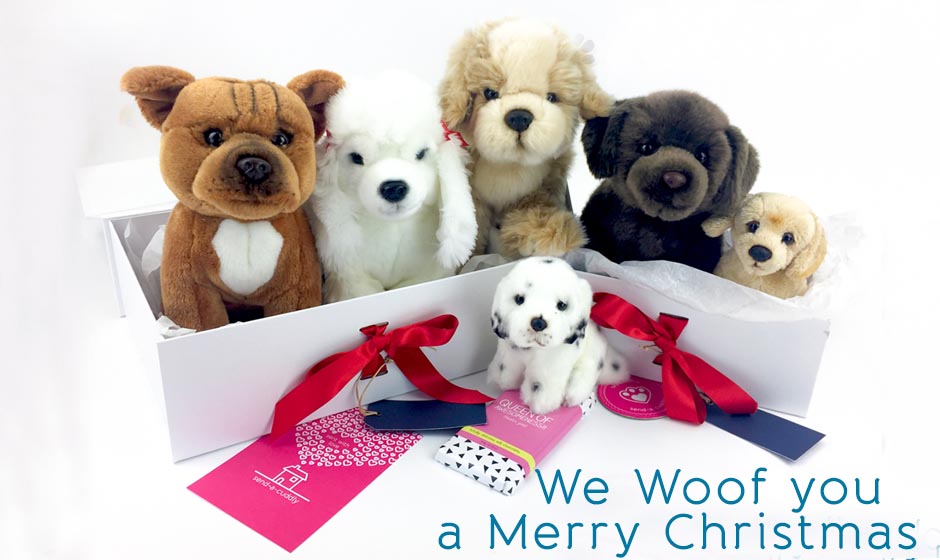 Just like the real thing, here at Send a Cuddly a dog is for life not just for Christmas! We have lots of festive pooches that are guaranteed to warm any heart! We have a huge amount of breeds in all shapes and sizes, with our selection constantly growing! So if prefer Shih Tzu to Santa, or Poodles to Polar Bears, we are sure to have a cuddly canine that you will be able to send or even keep for yourself! You can find our selection of Christmas Soft Toy dogs here, all perfect for sending in our white gift box with red ribbon, and choice of chocolate!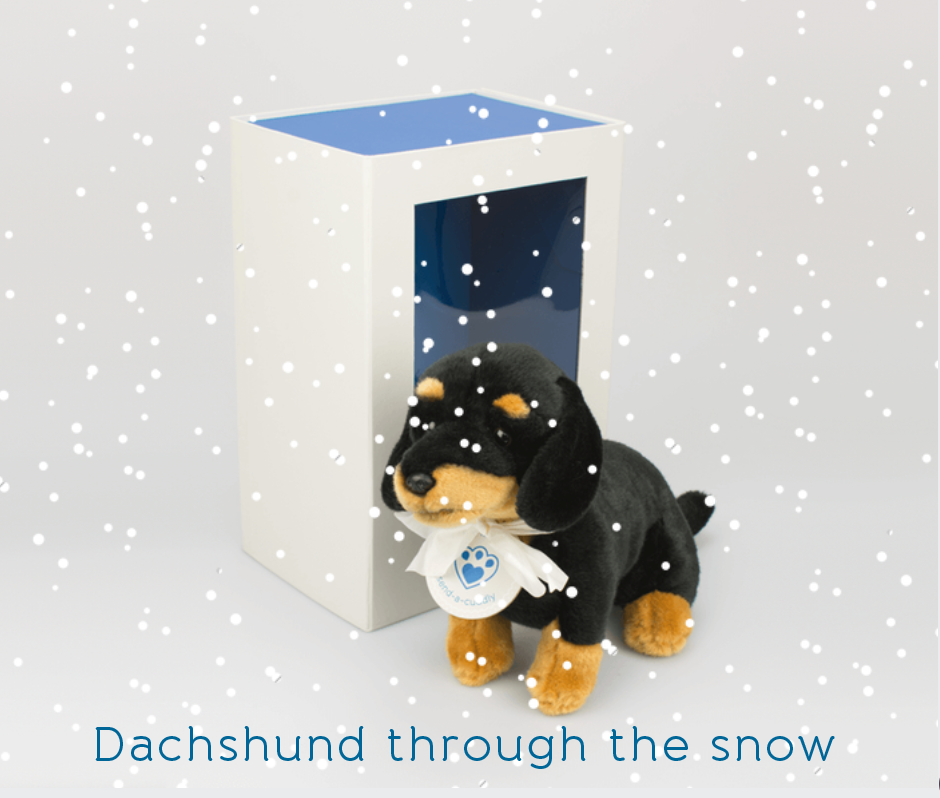 Of course, there are so many other Animals that make great Christmas gifts, you name them and we them! You'll find everything from Hamsters to Owls, Lions and Monkeys on our website, with each we are sure to have a Christmas pun or two that you could include on their message medal.
Looking for that last bit of inspiration? Maybe something a little out of the box may be what you are looking for? How about something from our knitted/crochet collection? All our crochet gifts are Fairtrade, handmade and with our varied selection, it will be easy to find a present to send this Christmas.
Message medals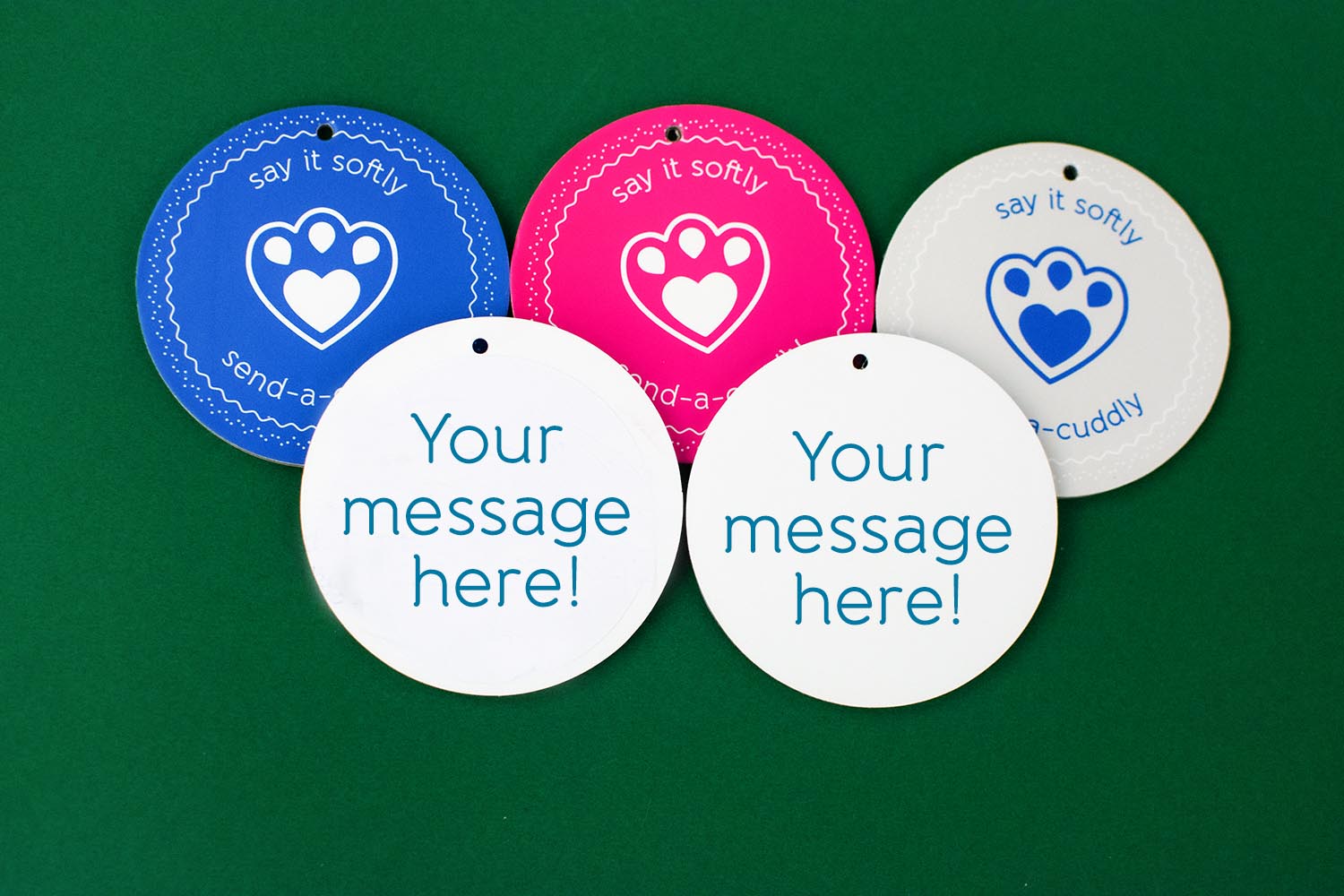 Our message medals are the perfect way to send a personalised Christmas message along with your soft toy or teddy bear.  Simple enter your message at our checkout (you'll even find some suggested messages for each individual cuddly, to give you some inspiration) and we will print your message onto a message medal that will attach around their neck. We have three different colours that you can choose from (Grey, Pink, and Blue). Alternatively, you can leave it blank to handwrite your own greeting if you are having it delivered to yourself before gifting.
Add a Gift Box?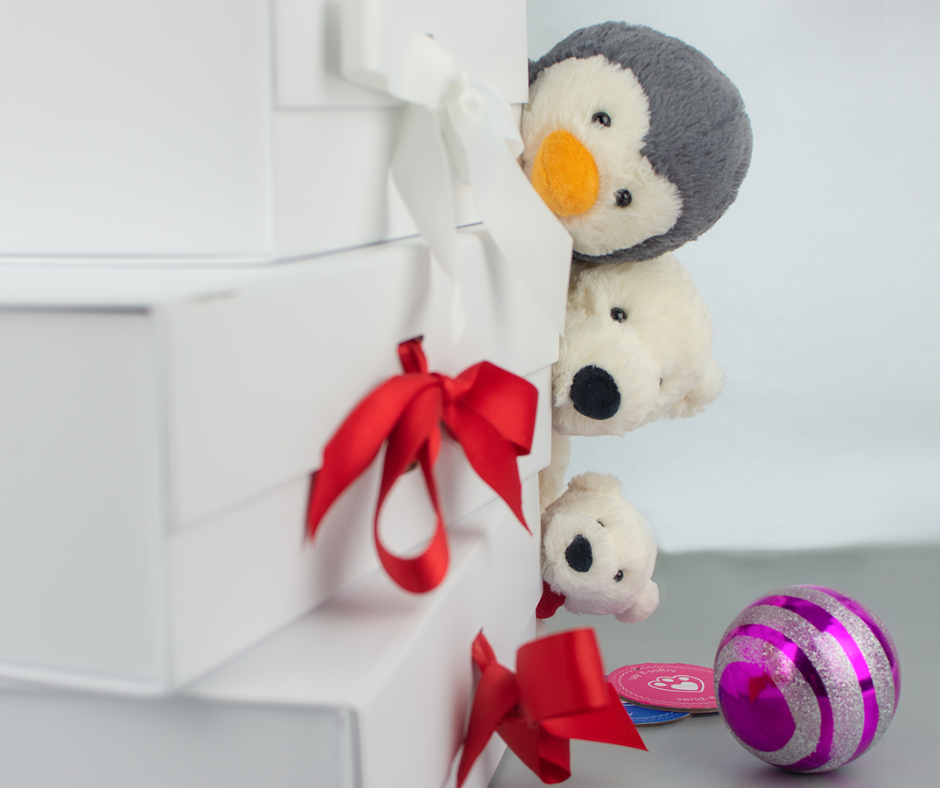 Beauty is in the eye of the beholder! So, make sure that anyone beholding and unveiling your cuddly Christmas gift gets the best possible surprise at with one of our gift boxes! We have a selection of gift boxes with various coloured ribbons, and even tartan ribbon.
Don't forget the chocolate!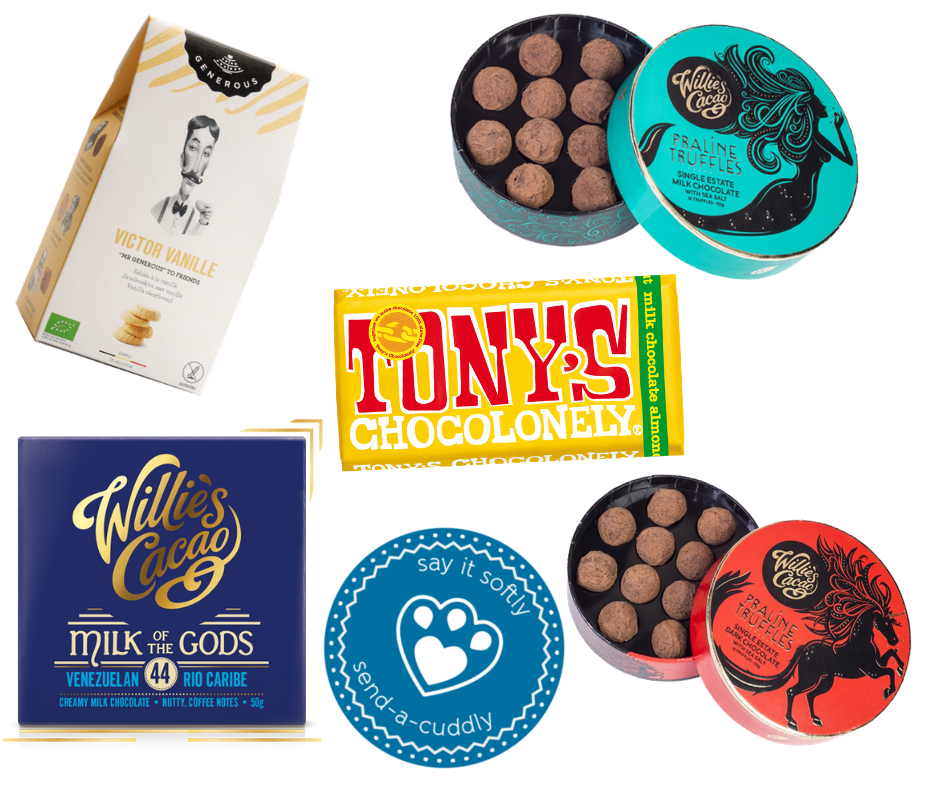 Lastly, but certainly not least you can make your Christmas gift even sweeter…with sweet things! We have a whole host of yummy chocolate bars, chocolate truffles,  jellybeans, and even shortbread biscuits.